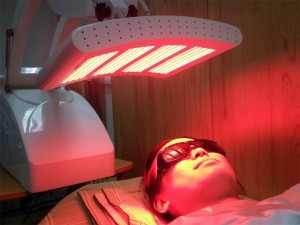 Photo-Dynamic LED therapy is a non-invasive skin rejuvenation system using Light-Emitting Diodes of varying wavelengths (colour), in conjunction with a topical photo-sensitizer to treat a range of conditions such as rosacea, acne, fine lines & wrinkles, and to promote skin repair.
The light therapy produced by the Bonni System illicit an inflammatory response on the skin, triggering fibroblasts in the dermal layers to produce collagen and elastin which results in a more healthy and great glowing complexion.
Bonni cosmetic gel contains and active ingredient of ALA (aminolevulinic acid) which boosts standard treatment by making the cells more responsive to light treatment. Additional ingredients including lotus root and vitamin E. After initial consult and skin analysis our trained staff will select a course of treatment designed to suit your skin condition.
Treatments take approximately 45 minutes; this includes 20 minutes of light therapy time. Treatments should not be more frequent than two times per week.
After each session, you can expect to experience some improvement in your skin's texture and appearance. As sessions increase you should expect to see a dramatic decrease in redness, fine lines, pore size, and acne formation. Results will noticeably improve in the weeks after treatments as new connective tissue is produced.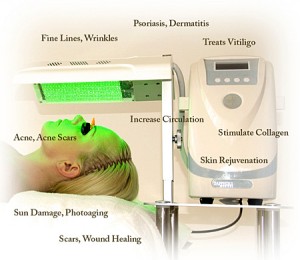 Blue
460 nm – Calming, Relaxing, Anti-bacterial, Reduces swelling, Purifying. Good for acne/blemishes/enlarged pores
Green
550nm – Anti-inflammatory, Antiseptic, Germicide, Tyrosinase enzyme blocker. Good for sun damage/pigmentation/uneven skin tone/rosacea
Red
700nm – Cellular rejuvenation, Increase ATP production, Stimulating, Increases blood flow. Good for wrinkles/fine lines anti-aging/circulation
30 minute session - $60
Prepay 6 sessions - $300 (save $60)
30 min Microdermabrasion + 30 minute LED therapy - $115