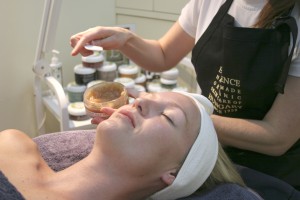 Organic skin care is natural beauty you can see and feel…
Choose from an array of treatments using the very luscious fruit, vegetable and herbal skin care products handcrafted by Eminence Organic Skin Care of Hungary. Since 1958 Eminence has been creating products that deliver naturally glowing healthy skin, releasing your inner and outer radiance. Your skin specialist will select your products and customise your chosen treatments according to the needs of your skin.
Sweet Cheeks Express Facial - $60
(30mins)
(Express hydration for all skin types)
Gentle buff and reawaken dry, thirsty skin with fresh strawberries and rhubarb for a bright and radiant complexion, before replenishing hydration levels with a mask of hyaluronic acid derived from the white marshmallow plant. This juicy express facial will soften and smooth your sweet cheeks for a refreshed, youthful glow.
Eminence Experience - $98
(60 mins)
(Signature to Eminence customised for all skin types)
Using an intensive selection of organic ingredients, this Eminence custom tailored signature facial assists the skin's oxygen intake thereby stimulating cellular repair and metabolism. It helps to detoxify, rejuvenate and even the complexion, the perfect combination of pampering and visible results for blemished, mature, hyperpigmented or sun damaged skin.
Try it you will be amazed at the experience, and results.
Lifting and Firming
Age Corrective Facial - $110
(60mins)
(All skin types concerned with aging)
Take your skin on a tropical retreat with hydrating coconut cleansers, tonics of exotic neroli and monoi oils, and strengthening bamboo serums as you watch ne lines disappear. Get a natural lift, feel instantly refreshed, tightened and smooth as the natural retinol alternative treatment increases collagen and refines the skin while Swiss green apple stem cells replenish the epidermis.
Try it you will be amazed at the experience and results.
Arctic Berry Peel Illuminating Facial - $89
(40 mins)
(All skin types including sensitive)
60 mins - $110
With LED Light Package of 5 treatments - $400
What if you could discover all the benefits of a chemical peel and microdermabrasion treatment using botanical peptides, gardenia stem cells and antioxidant rich arctic berries? An advanced, professional peel helps to revive and balance skin tone, minimise fine lines and wrinkles, reduce pore size, Acne pigmentation, and smooth out the texture of skin. The perfect all inclusive peel + peptide infusion when your skin needs deep cell regeneration and resurfacing with zero downtime. Skin is left smooth, firm, and incredibly luminous. The at-home kit is highly recommended continuing the benefits.