Featured in the Canberra Weekly Magazine (8 April 2013)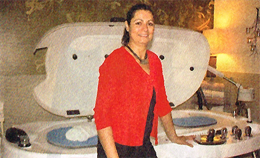 49 Anthony Rolfe Avenue, Gungahlin Julie Samaras was a guest of Nectar Beauty & Body Therapy and experienced the Chocolate & Roses Body Wrap ($100).
Chocolate releases endorphins that make you feel good, so it's no surprise the Chocolate Truffle & Roses Body Wrap I experienced at Nectar Beauty left me feeling fabulous. My skin was glowing and my body 'singing' from head to toe.
This body wrap is one of the most popular hydrotherapy spa treatments on the menu at Nectar, owned and operated by Marina Belchior who has over 17 years' experience in the beauty industry in Canberra. Her philosophy is simple - 'you have to nurture yourself inside and out; beauty truly comes from within'. She prefers to eat organic produce and uses three organic beauty ranges at Nectar: Australian owned Subtle Energies; Eminence Organic Skin Care; and Algologie.
Marina's approach to beauty services is that they should be affordable and accessible; e.g. the Chocolate Truffle & Roses Body Wrap takes around an hour, includes a facial and costs $100. My treatment began with a gentle dry brush exfoliation to stimulate the skin before being coated in a luxurious mask of chocolate, roses and honey. Whilst cocooned in the hydrotherapy capsule, I enjoyed a facial. A scalp massage and shower in the capsule refreshed me before a light massage of moisturiser. The treatment was both relaxing and revitalising. Sheer bliss!
In May, Nectar Beauty relocates to brand new premises nearby in Gungahlin Place (Centro Apartments ground floor), where it will offer a full complement of day spa and beauty services, plus improved accessibility for those with restricted mobility.
Featured in the STYD guide to the best waxers around the country (2003)
This is a female-friendly, down-to-earth salon. "Being in a women's gym means that the atmosphere is very non-threatening," explains Marina Belchior. She's been perfecting her wax technique for years, with many a local and expat being a diehard fan, "We use olive-oil strip wax and a peach warm wax for bikini and facial area," says Marina. They're also open late on Friday nights (until 8pm) so you can squeeze in a last-minute underarm or leg wax before that date!