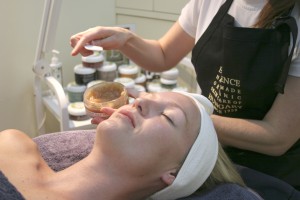 Organic skin care is natural beauty you can see and feel…
Choose from an array of treatments using the very luscious fruit, vegetable and herbal skin care products handcrafted by Eminence Organic Skin Care of Hungary. Since 1958 Eminence has been creating products that deliver naturally glowing healthy skin, releasing your inner and outer radiance. Your skin specialist will select your products and customise your chosen treatments according to the needs of your skin.
Sweet Cheeks Express Facial - $60
(30mins)
Express hydration for all skin types
Gentle buff and reawaken dry, thirsty skin with fresh strawberries and rhubarb for a bright and radiant complexion, before replenishing hydration levels with a mask of white marshmallow plant. This juice express facial will soften and smooth your sweet cheeks for a refreshed, youthful glow.
Nectar Signature Eminence Experience - $135 
(60 mins)
Includes eye treamtemts. Exfoliating, pore minimizing & detoxing. All skin types.
Time to spice things up & experience this cult treatment adored by celebrities worldwide! This naturally exfoliating peel cleanses the pores deeply & tones the look of the skin. The mix of blueberry & BlackBerry juices combined with pineapple extract is High in vitamins & antioxidants that will nourish & refresh your skin. Plus, lactic acid will remove dead skin cells & improve the appearance of your skin's texture. The refining & rejuvenating properties of berries, along with detoxifying & stimulating paprika are certain to take years off your skin, leaving behind a youthful growth.
Try it you will be amazed at the experience, and results.
Firm Up Superfood Facial - $120 
(60mins)
Plump, firm, hydrated & rejuvenated. All skin types, specially mature skin.
Additional LED Light - $40
Filled with antioxidants, vitamins & anti-aging benefits, the acai berry has recently been hailed as a superfood Harness the power of the south & central American fruit to regenerate skin cells while improving skin's overall appearance.
The Berry infused facial plumps & rejuvenate to minimise the appearance of fine lines & wrinkles while restoring moisture to soften the skin with botanical hyaluronic from marshmallow plant. Enrich & purify the layers of your skin with antioxidants rich acai berries that boost collagen & elastin products for that firm smooth berry-luscious glow.
Microgreens Detox Facial - $120 
(60 mins)
Detox, infuse,restore balance, brighten & renew. All skin types.
Additional LED light - $40
Harness the power of potent microgreens to combat the dull, drying effects at environmental stressors & reveal visibly stronger, revitalized skin! Formulated with Detoxophane-an active derived from Swiss cress sprouts that cleans & protects skin at the cellular level. This facial will clean, exfoliate & hydrate your skin,while enhancing its resistance against pollution & sun radiation and protecting from visible signs of ageing. Infused with hydrating lotus, and potent microgreens, the luxurious treatment seals in moisture to reveal a perfectly dewy complexion.
Calm with Chamomile - $120 
(60 mins)
Calm, soothe & protect. Sensitive skin types, especially rosacea & eczema.
Additional LED Light - $40
Experience the ultimate skin soother! Get out of the red & into the clear by calming sensitivity naturally with soothing marigold, ivy & arnica. Whether you suffer from rosacea, eczema, or just temporarily dryness & discomfort, chamomile & aloe vera will relieve any inflammation & reduce the appearance of redness leaving you with an even hydrated complexion & youthful glow. Combine those elements with shea butter, sunflower & calendula oil and your skin will feel plump and smooth.
Clear Skin Facial - $120 
(60 mins) 

- $70

 (35 mins)

Oil to normal skin types, especially congested, inflamed & acne skin.
Include extraction & LED light - $120 (90 mins)
Additional LED Light - $40

Perfect for getting skin back on track following a breakout or to Treat problematic and congested skins. Give your skin a dose of highly nourishing & cleansing ingredients to smooth inflamed skin & clear breakouts. Lactic acid derived from yoghurt exfoliates & moisturises, as cucumber rejuvenates & tones the skin.

Sheen butter aids in healing any acne scarring, as marigold gently soothes, cleans & reduces irritations. Clay penetrates pores to eliminate dirt and impurities. The results are excellent.
Teen Acne Facial - $70 
(30 mins) 

- $200

(package of 5 treatments)

AHA Glycolic peel. Oil to normal skin types, especially acne, blackheads & uneven skin types
Package of 5 treatments & LED light - $330
Additional LED Light - $40

Designed for hormonal teenage Acne skins to Treat the concerns of congestion and oil production, melasma, milia & blackheads.

Using gentle tea trees and AHA Salicylic acid to treat, calm and also prevent further breakouts. These resurfacing facial helps to refine, unblock and even out the skin tone, whilst helping to promote new healthy skin cells and educating you on a personalized correct skin care routine.